Now on Youtube! SONGS WITH VIDEOS!
If you like it, please "LIKE" it!
MORE SONGS WITH VIDEOS:
https://www.youtube.com/watch?v=R5peBCGV-cY    "Winter Solstice"
http://www.youtube.com/watch?v=uNB1IO_8xVk  "You're the Only One for Me"  Brilliant online dating parody 
http://www.youtube.com/watch?v=KF2SjqZ2zfg  "Flight 447"   Moving memorial to those who lost their lives on June 1, 2008

http://www.youtube.com/watch?v=K1lAncgU8Zs  "Ode to Glenn Mullin"  One of Dharma's blazing stars
Scroll down for previews of new songs without videos.
Just for kids: Tickle Monster:
2014 CD RELEASE: "HOPE SINGS"
20 original tracks now available to download on cdb

aby and iTunes

 

          http://www.cdbaby.com/cd/lauriehope3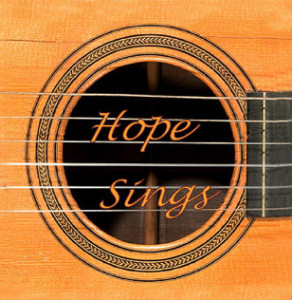 LISTEN TO FULL SAMPLE TRACKS:
Freedom  Laurie Hope: lead & harmony vocal, acoustic & slide guitar, hand claps, Ken Eros: bass, keys, drum programming, backing vocals, hand claps, April Theriault: hand claps.  Written by Laurie Hope, arranged by Laurie Hope and Ken Eros,  produced and mixed by Ken Eros, Ojai, CA  www.eroscreativeandsound.com
Burnout Blues Played on my Didley Bow – one string on a 2×4 with a tiny pickup hidden in a mounted Altoid box
I Didn't Know Her Name Inspired by one of Ojai's daughters.  Please let me know if you know anything about her.  Bass, drums and mixing by Ken Eros
Tweaky for Two  –  having' fun on my new synth….
Wedding Song – https://www.youtube.com/watch?v=bH20uU5hL0U   Perfect for your true love or spouse-to-be.
All LYRICS available at: http://wp.me/P3a5XE-3t
HOW IT ALL STARTED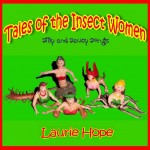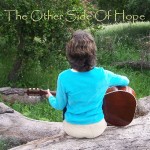 A few years ago I was on a turbulent airplane ride and had one of those white-knuckle moments when two thoughts spontaneously flashed through my mind: 1) I'm not nearly as equanimous as I had fancied myself to be and 2) I wish I had shared my original songs with my friends.  Once safely landed and thus motivated, I began recording and didn't stop until I had 32 original songs in the can.
The funny or naughty ones wound up on TALES OF THE INSECT WOMEN and the thoughtful ones are all on THE OTHER SIDE OF HOPE.
I snookered a bunch of my musical Ojai friends to join me on the things I couldn't do (trombone, violin, on-demand belching, and vocals beyond my range of 6 notes). And I did the rest– acoustic and slide guitar, mandolins, flutes, drums, piano, a few midi tracks, and about half of the vocals.
It was mostly recorded at home, then mixed and Mastered by Sean Ingoldsby and his cat Chimp (R.I.P.) at Real Time Studios in Ojai, CA.
I have about 900 copies left of Tales of the Insect Women so be sure to ask about bulk discounts. BIG bulk discounts!
Tales of the Insect Women: silly and saucy songs by Laurie Hope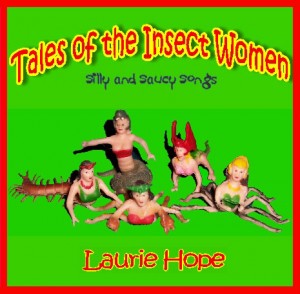 Hilarious, lighthearted, folksy, bluesy songs with clever lyrics bordering on risque. Truly original and guaranteed to make you smile.

Nowhere else will you find a collection of songs about dancing centipedes, bikini waxes, Prozac, Lorena Bobbitt and more! This highly entertaining collection of original songs exemplifies Hope's  motto:  Give me levity or give me death. No, wait… I didn't mean that!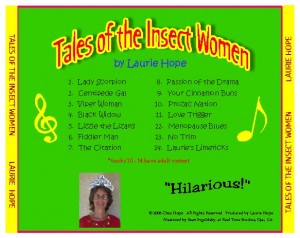 About the Artist:  SWF, California Capricorn, a bit kvetchy but in a good way, ex-juggler, gluten free, closet mystic, favorite quote: "If you can't learn to do it well, learn to enjoy doing it badly."  (Ashleigh Brilliant)
Guest singers on Tales of the Insect Women include: JB White, Sean Ingoldsby, Robbie Sheppard, Dave Sheppard, Smitty West, and Clifton Gore. Guest musicians include: Neil McFadden on trombone, Sean Ingoldsby on bass and drums, Yue Deng and John Zeretzke on fiddle, Karen Orser on banjo and Tom Ball on harmonica.  Yours truly does the remaining vocals, acoustic and slide guitar, mandolins, flutes, drums, piano, slide whistle, and kazoo.
What People are Saying about Tales of the Insect Women:
Her mom: "How can you embarrass yourself like that?"
Her son: "My mother writes dirty limericks. Ewww….."
Her sister: "I always knew she was strange."
Her shrink: "Highly therapeutic!"
Chimp the cat: "Hey that's me on track 5!"
Master Mikiabis: "这是美妙的音乐"
Her Ex: "Now you know why."
Her broker: "Buy this CD. Buy many copies."
Real Reviews:
Almost wet my pants! Laurie's songs progressively get more hilarious and PG-13-rated as the album unfolds, culminating in a call to the masses to submit limericks. How clever! With a delightful assortment of Ojai Valley's talented singers, and Laurie's own earthy vocals that nod and wink at each verse, this CD is a wonderful peek at her world, her intelligent and edgy wit and of course her musicianship.
-Smitty West
This unique little CD is a real find, especially for people looking for quirky, off beat material. The lyrics are clever, the songs diverse, and the instrumentation a delight. It leaves one with a giggle that lasts and lasts.
-John Biggs
We heard Tales of the Insect Women on a long car ride and laughed our heads off all the way through. It is a unique collection of wonderfully bizarre songs. Talented singers and instrumentalists including Laurie perform the music. Do not miss this certifiably witty CD.
–Roberta Sheppard
Let me just say that you are so original, and I mean that in every sense.  You have mined a previously unexplored universe–the intersection of the insect world with the human-humorous-folksy-jazzy-musical world!  You have put on as many hats as your Centipede Gal has shoes.  I congratulate you on the impeccable performances with a wonderful variety of timbres: fiddle, guitars, brass, vibes, and more.  It is such a clean presentation for each song, and it's fun to hear the different voices sing them. I think that we're way beyond Mazel Tov.  I hope that you get as much pleasure from this huge effort as you have given to your listeners.
-Judy Vander
Very nice musically and lyrically. Reminds me a bit of Tom Lehrer, known to those of us from the Pleistocene Era. Sounds like it was great fun to write and put together.
-Ken from Santa Barbara
You naughty, naughty girl!!!!! Hahahahhahhaa. Loved your Tales cuts.
-Chris Lovejoy
Really funny!  Three of us are sitting here laughing our heads off.
-Jeffrey Scharf, lyricist
Track Notes:
#1-5 were inspired by the bizarre and busty rubber figurines made by the wacky folks at Accoutrements Inc. called The Invasion of the Monster Women (and sadly no longer available, unless you want to order $10,000 worth. That's a lot of bugs).
#6: How many old time song titles can you find in Fiddler Man? (Hint: more than 4, less than 6)
#7: The Citation lyrics were written by my wunderkind son, Joshua, when he was in high school.  The nut doesn't fall far from the tree.
#8: The Passion of the Drama was the result of asking a friend if she was still going out with her on-again off-again boyfriend and she replied, "Ummm, I don't remember."
#9: Your Cinnamon Buns was written on a restaurant napkin at breakfast. Guess what we were having?  (wrong— it was eggs and potatoes)
Note to parents: you might not want to have to explain tracks 10 – 14 to the kids.
#10 Prozac Nation:  Recent tests are finding pharmaceuticals in our water supplies. Scary! My first version of the chorus was:
The whole world's gonna get happy
The whole world's gonna get high
Cause we're pissing out our anti-depressants
Into the water supply!
#11: Love Trigger: Clift and I went to a Valentine's Day party where we had to come as a famous couple, so we chose Dale Evens and Roy Rogers.  Our stick horse Trigger stole the show. Pinch his ear and he whinnies and gallops (Trigger, not Clift). You can hear him on the end fade out.
#12: Menopause Blues: This whole CD is a result of 'em!
#13: No Trim: If you think Brazilians only live in Brazil, you'd better ask someone about this.
#14: Laurie's Limericks:  E-mail me if you want to hear my favorite limerick.  It is way too disgusting to put in the song!
#15: Write your Own Limerick:  I double-dare you!
THE OTHER SIDE OF HOPE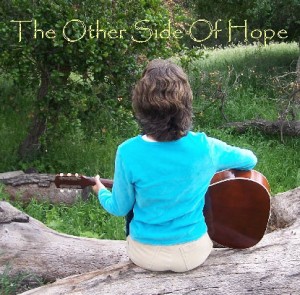 Lovely acoustic melodies with heartfelt and meaningful lyrics.  Eight different featured female vocalists on 16 tracks of original songs. Mostly folk with a bit of blues and country.
Guest Performers include: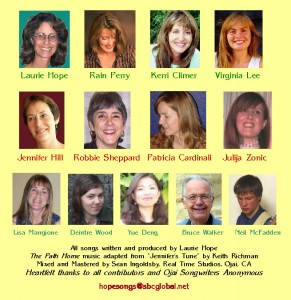 Vocalists Rain Perry, Kerri Climer, Virginia Lee, Jennifer Hill, Robbie Sheppard, Patricia Cardinalli, and Julija Zonic. Lisa Mangione on harmonies, Deirdre Wood and Yue Deng on violin, Bruce Walker on oboe and Neil McFadden on trombone.
Reviews for The Other Side of Hope
A wonderful group of songs performed by an equally wonderful group of women (starting with the composer herself). This is a record for grown-ups, by a woman who has lived and loved and hurt and laughed — and survived to celebrate it all. The rich variety of voices she has invited to join her on these songs gives the album a communal feel, reminding us that sisterhood is indeed powerful!
-J.B. White, The Household Gods
Excellent and inventive, My daughter loves it as well. Great acoustic songs, I especially liked Aqua Dulce and Passing of the Days. Simply beautiful. You have a very unaffected and organic style and delivery.
-Chris Lovejoy
I think these tunes represent your considerable talents as a musician and songwriter.  Such a variety of melodies, rhythms and idioms.
–Dave Sheppard
Today I listened to The Other Side of Hope and I was blown away!  Congratulations!  Bravissima!  I think that it is wonderful from all standpoints–music, lyrics, performance, and production.  It is impeccable–so beautifully crafted and realized.  Your instrumental settings are absolutely lovely.  I enjoyed the overdubbing of voices, guitars, the use of the flute, mandolin, and percussion sounds.  The two low songs–Shaman Song and Unbreakable Heart–are such a great contrast.  And the various singers and instrumentalists really add their own qualities to the album too.  You have your own authentic musical "voice" and it comes through so clearly in this CD.  What an accomplishment.  You should feel very, very proud.  Thank you for the gift of you.
–Judy Vander
Laurie Hope is a songwriter of many talents. Her songs express a full range of emotion, from the comic relief offered on TALES OF THE INSECT WOMAN to the happy, sad, hopeful, haunting songs on THE OTHER SIDE OF HOPE. I lean towards the sad songs and especially like Hard Luck Blues, Ocean Waves, The Lilac and the Rose, and Behold the Truth, but all of the songs are wonderful. The voices of the women who perform are sublime.
-Zoe Murdock  
Great stuff!
-Steve Noonan
Laurie, age 2. Who knew?