LAURIE HOPE is a licensed Marriage and Family Therapist (CA #29999) with an M.A. in counseling. She served on the faculties of Sonoma State University and the Santa Rosa Community college for ten years teaching courses in Death and Dying.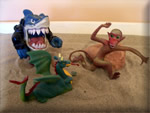 She now has a private counseling practice in Ojai, CA, specializing in relaxation training,  hypnotherapy and sandtray therapy.
Her journey with chronic illness began in 1982. With a background in psychology, comparative religion, Buddhist meditation, and qigong, she is interested in healing not only the body, but the psyche, mind, and spirit as well. She hopes that her book The Unchosen Path and the guided meditations on this site will be of benefit to others traveling a similar path.
As director of the SAGE program she has led hundreds of personal growth groups for seniors, and compiled a practical manual to support others in facilitating their own groups.
In recent years she has been actively involved with Ojai Songwriter's Anonymous and continues to come up with new material. As a songwriter, her work ranges from sincere to satirical, from silly to sublime.
Send Laurie an Email.