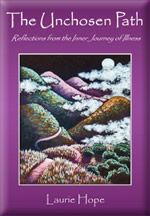 The Unchosen Path will be of interest to anyone living with illness and pain, as well as their families and friends and those in the healing professions.
Short excerpts from interviews, personal journals, and writings from a variety of authors share what they have learned and what brings them healing. These personal reflections are touchingly honest, thoughtful, courageous, and wise.
---


Check out the HEALING AUDIO page to listen to free guided visualizations guaranteed to mellow you out and warm your heart.
---

In recent years Laurie has produced two CDs of original music with contributions from a variety of local Ojai talent.
Grab a free listen and check out her new songs and videos!
---